TIGERS
On 2000 and 2001 I marked some tigers with microchips in the Moira Orfei circus, four tigers on 2000 and other four on 2001. At the bottom of this page you can find the links to see the cubs

2003
Tigers aren't always aggressive, sometimes they love grooming, like big cats.

















My hand seems so small
near the tiger's head

Tigers at the pool
Tigers love water, unlike the cats. In these pics you can see how they love to have a bath in these steel pools expessely made for them.


The pool full
of clean water








Let's jump into the water







Third tiger enters
in the water

The other two tigers
don't appreciate it



And they bite it



Rema controls a water
loss with curiosity





A little fight

Played with passion









Another tiger
enters into the pool

And the other tigers
immediately bite it


























What a pleasure

Clyde in his
private pool


































He find a wood table
and bring it into the pool

And he bites it hard



)







Something interesting
on the horizon





---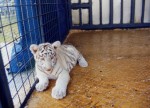 Tigers
Page 2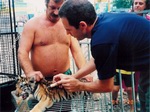 Tigers
Page 3
---

Home Page



Cats



Carnival of
Venice